Click here to view our Powerpoint presentation (8MB).
Click here if you do not have Powerpoint to view the slideshow (12.5MB)
Suncoast Industrial offers a full range of services for the protection of your employees. Your Electrical Safety Program will also protect your equipment, reduce downtime, thereby increasing your profitability.
There is an Arc Flash Hazard when working on your electrical system. Injuries and accidents can occur. The correct steps could eliminate such accidents happening to your employees and contractors.

OSHA states in 29CFR1910: section 132(d)(1) - The employer is required to conduct hazard assessment, to select and to require employees to use protective apparel (PPE). Employers who conduct the hazard/risk assessment as stated in NFPA 70E are deemed in compliance with OSHA.
NFPA-70 (NEC) states: ART.110.16 - Switchboard shall be field marked to warn qualified persons of arc flash hazards. ART.110.9 - Equipment shall have an interrupting rating sufficient for the current that is available.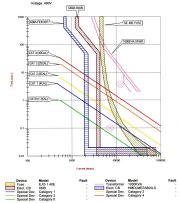 Click Image to Enlarge
NFPA - 70E requires: ART. 110.7(A) - The employer shall implement an overall electrical safety program. ART.130.3 - A flash hazard analysis shall be done in order to protect personnel. The analysis shall determine PPE.

RECOMMENDED SCOPE OF SERVICES: